Emergency Cases
Advanced Life Support Ambulance Service with Neonatal Capabilities
0800 333 911
Citimed Ambulances
Dispatching the appropriate staff and equipment to the scene could make the difference in the patient's outcome.
Advanced Life Support
Advanced Life Support personnel are capable of treating a wide range of Life threatening injuries and illnesses.
Citimed Ambulance was established in 1987 to meet the growing demands of the previously disenfranchised communities around the Durban area, for Emergency Medical Care and Transportation. Citimed Ambulance is now a premier Advanced Life Support Ambulance Service in the eThekwini region with a fleet of five ambulances and two ALS response vehicles.
Our fleet is tracked from the call centre providing security and guiding our vehicles to scene. This further improves our response times. Various Assistance Companies, Government Departments and Institutions call upon Citimed Ambulance as their preferred provider.
Citimed Ambulance is a subsidiary of the Joint Medical Holdings Group. Other members of the Group include the City Hospital, Isipingo Hospital, Durdoc Hospital, Ascot Park Hospital, Richards Bay Medical Institute and Gandhi Mandela Nursing Academy. We pride ourselves in providing First World Care at affordable prices.We are members of the Private Ambulance Association (SAPAESA) and our staff are all registered with the Health Professions Council of South Africa (HPCSA) and use best practices when treating and transporting patients. Patients are always transported to the nearest most appropriate medical facility.
Citimed Ambulance responds daily to various calls for help, from industries, homes, road accidents and medical facilities. Long distance transfers are undertaken by road throughout South Africa repatriating patients to their home or hospitals closer to home.Depending on the nature of the call Citimed will despatch the appropriate staff to the scene. Advanced Life Support personnel are dispatched if there is a need for specialized care on scene. Citimed Ambulances are all equipped with Automated External Defibrillators (AED) and vital signs monitors.
Friendly, Dependable Agents
Citimed Ambulance operates a 24-hour call centre from Durban central. Calls are taken and graded according to the priority, life threatening, non-life threating or inter facility transfer.
If the operator deems a call life threatening, the ambulance is dispatched and life saving advice is given to the caller.If Citimed Ambulance cannot get to you, we will find somebody who can. JMH investment in Citimed Ambulance is a show of the groups dedication to a holistic approach to healthcare, from the time the first call is made up until patients discharged.
Advanced Life Support
Advanced Life Support (ALS) personnel are not available on ambulance but ALS are dispatched to scene if the Emergency Medical Dispatched (EMD) deems it necessary. This is decided from the information received or when the ambulance crew request for ALS assistance.
Advanced Life Support personnel are capable of performing invasive therapies, administering drugs and recognizing and treating a wide range of Life threatening injuries and illnesses.
-->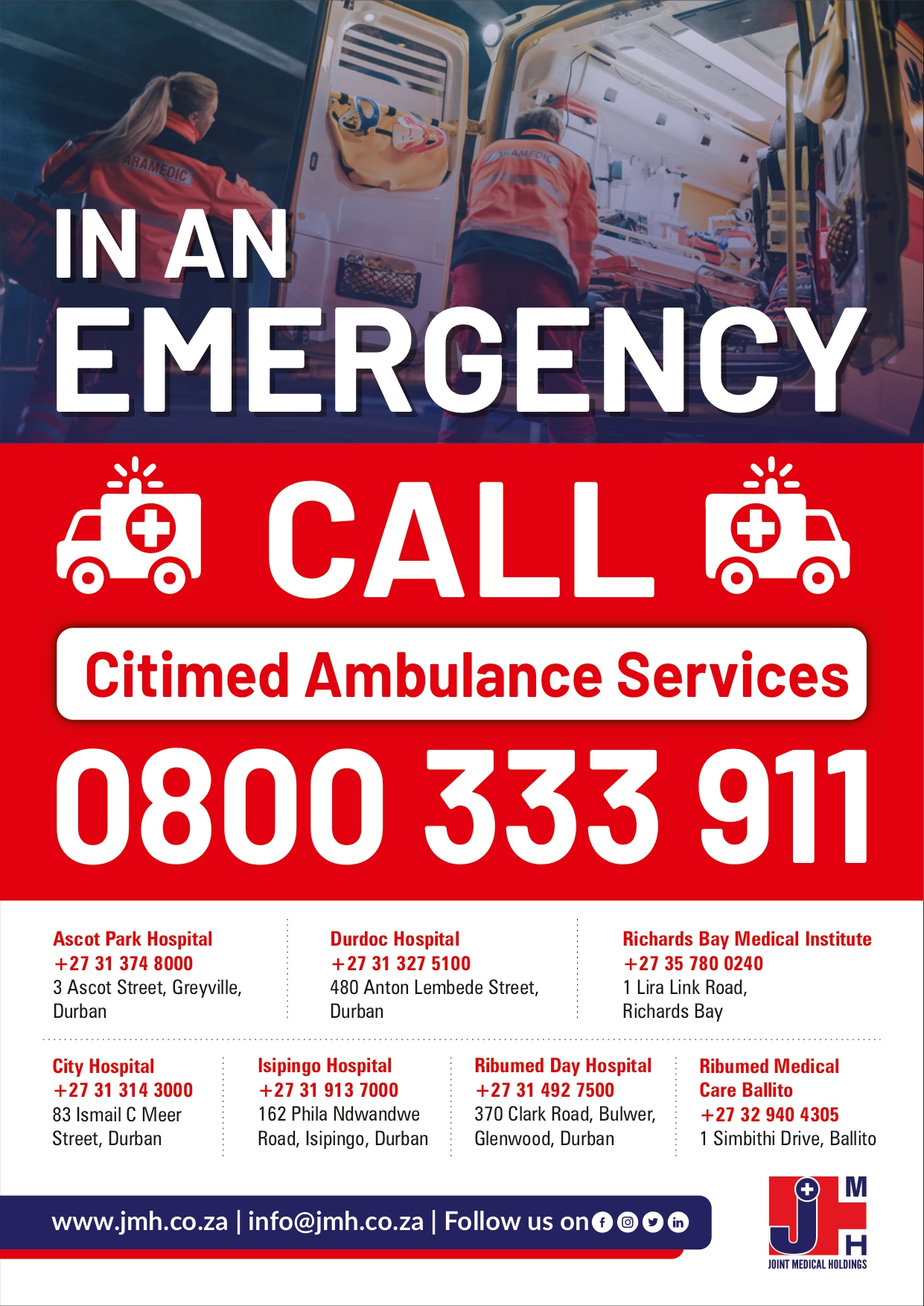 List of equipment on Ambulances
Apnea monitor
Neo-natal ventilator
Incubator
Non-invasive vital signs monitoring for neonates
ECG Monitor defibrillator with pacing
Ventilator and Syringe pumps
Oxygen saturation monitors
Non-invasive blood
Intubation equipment
Pressure monitors
Wide range of drugs